A Dedication Story
The story of "Lady Of Reilly Lighthouse" is based on reality with a whimsical twist. My mom was everything to our family, our strength, our rock, our courage, our confidant, our best friend. She was a deeply spiritual person, and simply an amazing woman. Mom taught us honesty, and installed values in us. I cannot say enough for all that she was to us.

She loved animals, and one day, while I had her out running errands, we came in contact with a man carrying a Yorkie in his pocket. She was very taken by the dog, and never stopped talking about it, she even picked out a name, "Gizmo". She never got to realize her dream of having a Yorkie own her. So it is with great love and wonderful memories that I dedicate this site, and our Yorkshire breeding program to my Mom, Evelyn Reilly.

Mom fought a long hard fight with interstitial pulmonary fibrosis of the lungs before passing away on the eve of her 50th wedding anniversary, Aug 31st, 2006, and there is not a day that goes by that she isn't in my thoughts.

In Loving Memory


There are others who helped this dream become a reality, and I would like to acknowledge them here. First, to God, who instilled such a love for animals, and great faith in me that I would someday do the thing I now find I love best!

To Maureen, Station One Reg'd Kennels, who encouraged me and mentored me in "dog" for many years. Who realized my potential and love for dogs for what it really was, long before I did.
I would also like to thank P. Wilson of Lee's Sweet Shih Tzus, for all her guidance and help, and sharing her wealth of knowledge with me regarding the Shih Tzu. She brings 40 years of breeding knowledge and experience to the table, and I am pleased to call her my friend and my Shih Tzu mentor.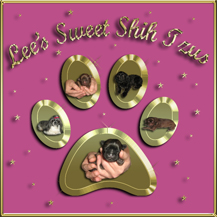 Dad, I love you and I am proud to place our family name on this Kennel. Thank you for all you have done. And for being there.